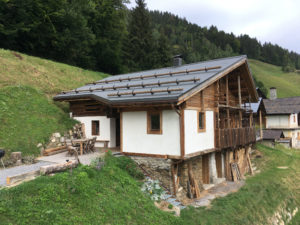 1/ Why did you decide on "restoration" rather than "new construction"?
"This is a life project… Our first construction. We have strong ties to the area… This is far more than just a place to get together, it is a return to our origins and what matters to us… It is a place which suffices to itself." This is the couple's first joint project.
From an early age, Dominique developed a respect for the work of his elders. The love of the rural world is a philosophy of life. His desire to do his part for heritage is far more than a matter of education though as he has a genuine love for old buildings. As a boy, he would participate in the
restoration of old houses alongside his father.
Isabelle has trusted him entirely since the beginning of this venture. She follows him with enthusiasm and has been participating by his side in this slightly "crazy" renovation project. They already had numerous passions in common, being keen hikers with a love of nature and everything that mountain grazing grounds have to offer. This home project is thus nothing but a natural extension of all this.
2/Were you aware of the type and quantity of work required before you got started?
"Very much aware!", Dominique very quickly learnt to plan ahead. "This was a slightly crazy undertaking. It was a major leap that required some foresight!". Managing things remotely has never been a concern for him.
His only slight reticence when the time came to purchase this building was access which is more complicated at certain times of year.
3/Did the work to be carried out seem feasible before meeting the experts?
"We never even considered anyone else, the reputation of Maison Pierroz was already very good, they are recognized for their expertise in the renovation of old buildings. The initial visits prior to the project go-ahead proved conclusive. However, it is the honesty and transparency of their recommendations which really sealed our trust in them. Maison Pierroz was also able to put together a team of likeminded partners."
4/What were your selection criteria?
"Trust…"
5/Why choose an expert in the sector rather than a more generalised company?
"The specific characteristics of the project did not lend itself to this."
6/Was an architect necessary to conduct (all or part of) your project?
"No."
7/How did you choose your materials? Was Maison Pierroz proactive and reactive in this regard? How?
"They proved highly proactive when it came to solving the technical problems which arose. Their vision taking into account our desires and tastes led to remarkable results, in particular the balustrade and the true Mountain spirit. They really listen to the customers' needs and become the ideal partner to ascertain success of the project."
8/At which point in the project did you begin to really get a feel for your future home?
Dominique: "I had a clear vision of the project as from the first day!"
Isabelle: "When the mezzanine and openings were created so access became possible."
9/How long did it take for this project to be completed?
"Difficult access during wintertime meant that we had to interrupt works and it took two years."
10/Your greatest satisfaction?
"Here, things are simple and natural.
Restoring an old lady and having kept the spirit of the chalet.
A place steeped in authenticity… The satisfaction that comes from feeling good here.
Serenity, simplicity and wellbeing… We don't need much else up here."
11/Would you like to undertake any new projects?
"This project really fulfilled me, I am attached to it."
Dominique who has often had to uproot his life, has ended up building his own roots here. A strong sense of attachment has resulted from this project and the fact that his wife trusted him entirely and
accepted the challenge led to an intense feeling of fulfilment.
12/How would you describe Maison Pierroz?
"A passionate team devoted to authenticity."
13/In conclusion, what key values stood out in your rapport with the Pierroz team?
"Passion, authenticity, rules of the trade, incredible team."